Features to make your life easier.
Add pre-packaged templates of hours and roles so your sales and delivery teams don't have to start quoting from scratch or create a custom scope

 

Adjust hours and roles by week or date range for granular demand forecasting

Quickly clone quotes to create new versions that are all tied to the same Opportunity in Salesforce, so you can see changes over time

Apply discounts and adjust pricing; see margin at a glance

Add materials (expenses, fixed cost, products)

Define your fixed fee billing schedule on your quote

Generate content for SOWs and proposals

 

Create approval processes around quotes and/or quote documents (SOWs/proposals) for pricing/discounting and scope

Sync to Salesforce Opportunity and/or Opportunity line items

Sync with FinancialForce PSA projects and resource requests

Sync with Salesforce CPQ
"PSQuote is the right tool at the right time. We are aggressively scaling our organization to achieve growth goals over the next several years, and getting the right tools in place is key. We know PSQuote is going to grow with us, and we're grateful for CLD Partners' excellent implementation work."
"Steve and his team understand professional services so well and have brought us a tool in PSQuote designed to adapt to the way we sell. Now we have our process on the Salesforce platform, ready to reap the benefits."
"Using the service estimation tool, our sales team was able to price a project in 10 minutes with all the data saved natively in Salesforce. It is AWESOME!"
Why PSQuote?
You've probably noticed that traditional CPQ tools are not built for services organizations. Instead, companies end up relying on spreadsheets in order to capture the data necessary for effective services estimating. This leads to headaches, manual work, confusion among teams, and the worst: revenue leakage. The creators of PSQuote have seen organizations struggle with this for too long, so we developed PSQuote as a solution for the services industry.
"Sirius values great partners, and CLD has been one of our best.  We had a need for a service estimation solution to integrate with our sales & delivery processes in Salesforce and FinancialForce.  Through their expertise and experience, they designed a solution that surpassed our expectations!"
"CLD Partners designed and built a services estimating solution for Kofax that brings together Salesforce CRM, CPQ, FinancialForce PSA, and our own unique estimating needs in a way that is efficient and easy to use."
"Once a deal is won, the system automatically creates the project, budgets, resource requests and schedules sourced from an approved estimate simplifying project setup."
Seamless sync with Opportunities and downstream to PSA and orders
PSQuote is designed to work with Opportunities and, if desired, it can be configured to use Products and Pricebooks already setup in your Salesforce environment.
We designed it to be an all-in-one quoting solution for professional services. It easily connects with PSA apps on (or off) the Force.com platform so that information from the quote and opportunity are used as the basis for project setup and project staffing.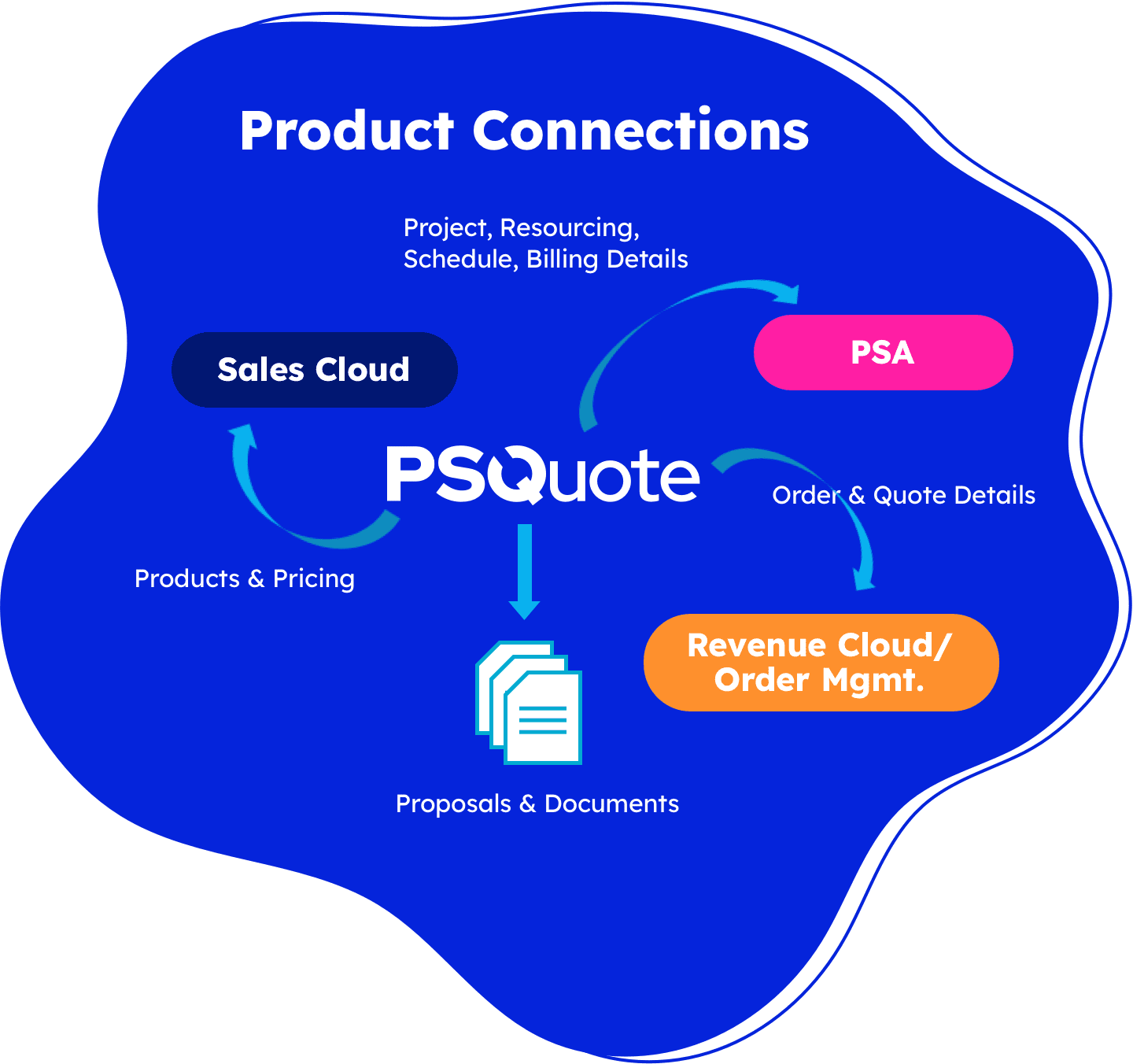 Getting PSQuote for your organization is simple.
View a PSQuote live demo
You'll see how easy it is to create a quote using templates customized to your company.
Get PSQuote for your organization
The experts at CLD Partners—a leading Salesforce certified integrator—will set up and integrate PSQuote for you.
Streamline and automate quoting
Get everything you need to create quotes, and see what was sold through to what gets delivered.